Engineered quartz stone is a great choice for adding a pop of color and personality to your home. When used on walls, floors, countertops, and more, these quartz stones create a textured and dimensional look with their white patterns.
| | |
| --- | --- |
| Model Number | V036 |
| Material | 93% quartz sand and 7% resin |
| Surface | Polished/Leathered/Matte |
| Package Type | Fumigation Wooden Frame /Iron A Frame |
| Warranty | More than 5 years |
| After-sale Service | Online technical support |
What are the Applications of the Quartz Stone?
The artificial quartz stone is flexible and its rich combination of colors gives itself with the texture and beautiful surface like the natural stone.
It can be widely used in public buildings (hotels, restaurants, banks, hospitals, exhibitions, laboratories, etc.) and home decoration (kitchen countertops, washstands, kitchen and bathroom walls, dining tables, coffee tables, window sills, door covers, etc.). It is an environmentally new building interior decoration material that is free of radioactive pollution and can be reused.
Here are the details about its applications
Public Buildings:
With its elegant appearance and good texture, it is widely used in many public spaces:
●Hotels: Adorning reception desks, lobby surfaces, and elegant flooring, quartz stone elevates the opulence and durability of hotel spaces.
●Restaurants: Enhancing the ambiance of dining areas, bars, and buffet counters with its sleek surfaces and resistance to stains, quartz stone is an ideal choice for culinary settings.
●Banks: Providing a sophisticated yet resilient option for countertops, teller desks, and interior cladding, quartz stone maintains an aura of professionalism.
●Hospitals: Ensuring hygiene and ease of maintenance, quartz stone finds its place in sterile environments such as operation theaters, patient rooms, and medical facility surfaces.
●Exhibitions and Laboratories: Display areas, exhibition booths, and scientific labs benefit from quartz stone's durability, making it suitable for high-traffic and specialized usage.
Home Decoration:
The quartz stone also can be used in home.
●Kitchen Countertops: Resistant to scratches, heat, and stains, quartz stone becomes the epitome of functional elegance in kitchen spaces.
●Washstands and Bathroom Walls: Enhancing the aesthetics of bathrooms with its water resistance and varied designs, quartz stone creates luxurious washstand surfaces and durable wall cladding.
●Dining Tables and Coffee Tables: Infusing sophistication into dining and living areas, quartz stone tables offer both resilience and aesthetic appeal.
●Window Sills and Door Covers: Adding a touch of elegance and functionality, quartz stone transforms window sills and door covers into durable, low-maintenance accents.
Production Process of Quartz Stone: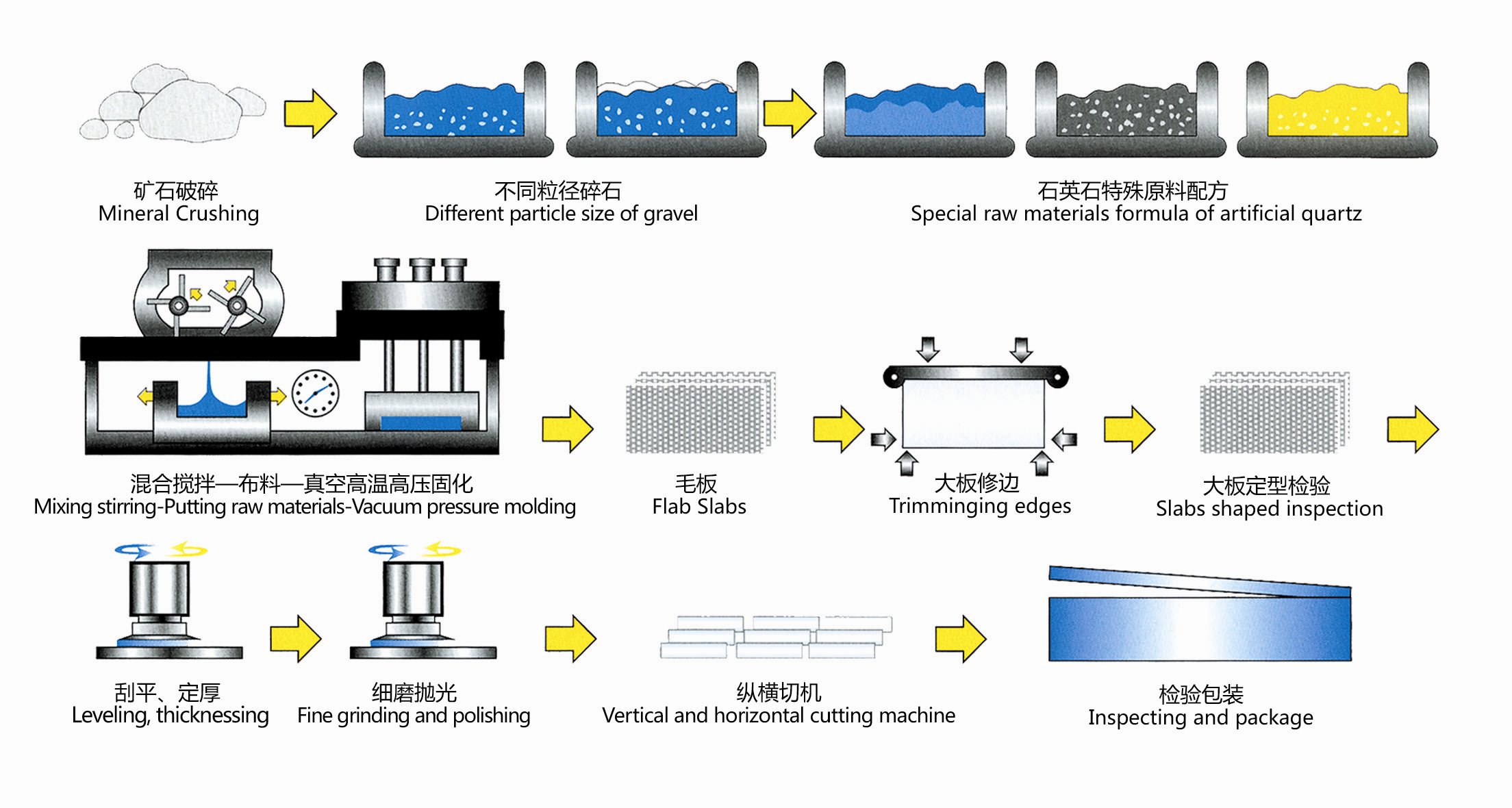 Mineral Crushing → Different particle size of gravel → Special raw materials formula of artificial quartz → Mixing stirring-Putting raw materials-Vacuum pressure molding → Flab Slabs → Trimminging edges → Slabs shaped inspection → Leveling, thicknessing → Fine grinding and polishing → Vertical and horizontal cutting machine → Inspecting and package