Engineered quartz stone is a great choice for adding a pop of color and personality to your home. When used on walls, floors, countertops, and more, these quartz stones create a textured and dimensional look with their white patterns.
| | |
| --- | --- |
| Model Number | V037 |
| Material | 93% quartz sand and 7% resin |
| Surface | Polished/Leathered/Matte |
| Package Type | Fumigation Wooden Frame /Iron A Frame |
| Warranty | More than 5 years |
| After-sale Service | Online technical support |
What are the Applications of the Artificial Quartz Stone:
The artificial quartz stone is flexible and its rich combination of colors gives itself with the texture and beautiful surface like the natural stone.
It can be widely used in public buildings (hotels, restaurants, banks, hospitals, exhibitions, laboratories, etc.) and home decoration (kitchen countertops, washstands, kitchen and bathroom walls, dining tables, coffee tables, window sills, door covers, etc.). It is an environmentally new building interior decoration material that is free of radioactive pollution and can be reused.
Production Process of the Artificial Quartz Stone: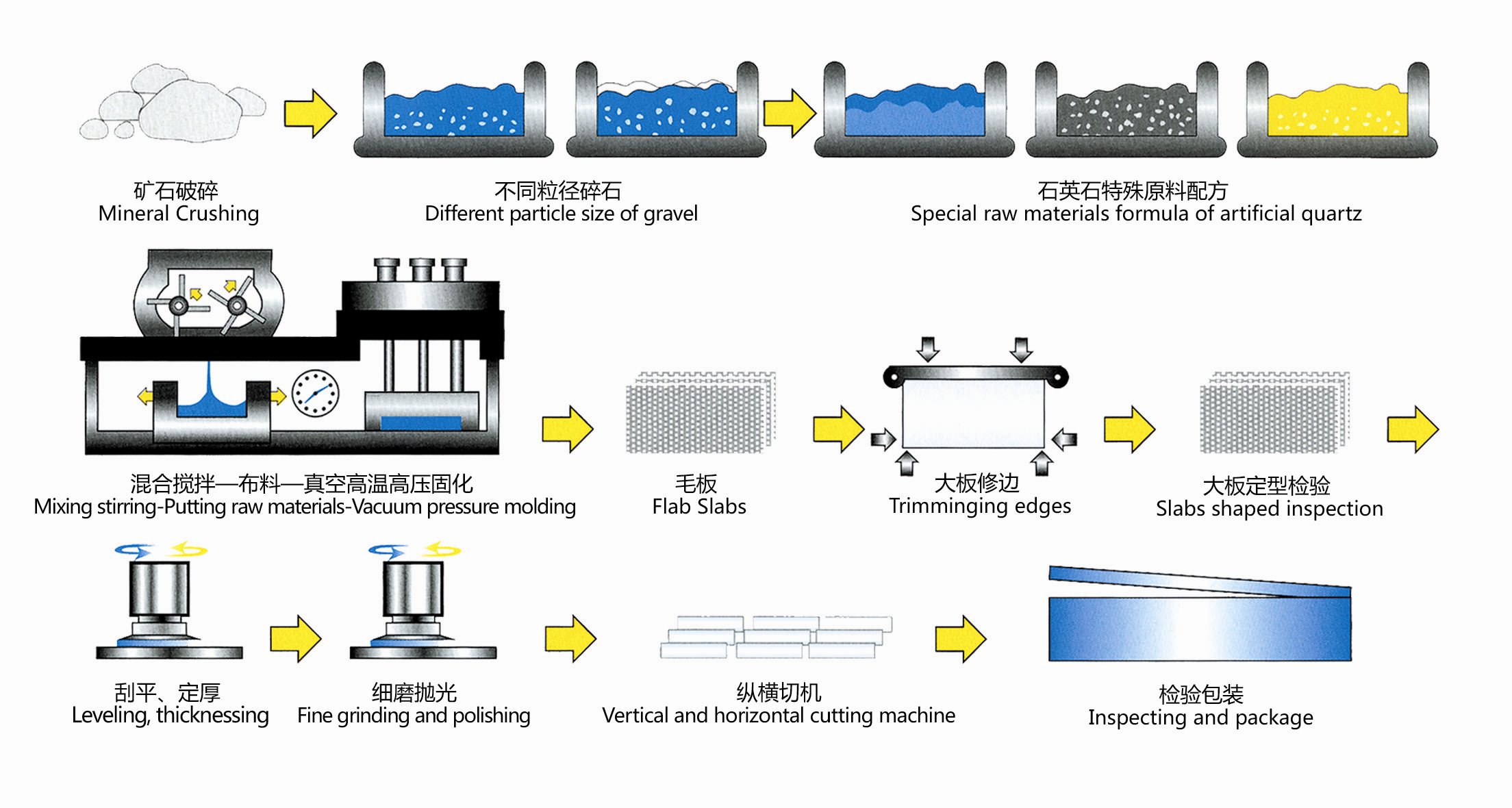 Mineral Crushing → Different particle size of gravel → Special raw materials formula of artificial quartz → Mixing stirring-Putting raw materials-Vacuum pressure molding → Flab Slabs → Trimminging edges → Slabs shaped inspection → Leveling, thicknessing → Fine grinding and polishing → Vertical and horizontal cutting machine → Inspecting and package
Why Choose Clacatta Quartz Stone?
V037 clacatta quartz stone is a masterpiece crafted with precision and inspired by the majestic Alps For the purpose of residential and commercial uses, this series quartz stone is composed of 93% quartz sand and 7% resin, this quartz stone embodies durability and elegance in equal measure.
What sets the clacatta quartz stone apart is its captivating design, mimicking the allure of the Alps. The bold, intricate veining in warm grey hues against a pristine white base evokes the grandeur of mountainous landscapes, offering a myriad of design possibilities. Whether adorning countertops, floors, or walls, this stone elevates interiors with its natural aesthetics and timeless appeal.
Three classic and exquisite surface finishes are available in this series of quartz stone - polished, leathered, and matte. Each finish has it special texture and offers versatility to suit diverse design preferences. Its polished finish reflects sophistication, while the leathered and matte surfaces exude a contemporary charm, enhancing any space with their distinct textures.
What are the Features of Quartz Stone?
With an absorption rate of just 0.03%, our engineered stone quartz showcases its resilience against moisture, making it a prime choice for both indoor and outdoor use. Its impressive density of ≥2.3gr/cm3 not only assures longevity but also guarantees a luxurious feel that elevates any space.
One of its standout features lies in its remarkable abrasive resistance, ranging from 29.0 to 36.0MM. This attribute ensures enduring beauty, maintaining its pristine appearance even in high-traffic areas or under heavy use.
In terms of strength, our clacatta quartz stone boasts a compressive strength of 234 MPa in dry conditions, emphasizing its robustness and ability to withstand significant pressure without compromising its integrity.
What truly sets our quartz engineered stone apart is its ability to remain unaffected by high temperatures and boiling water. This exceptional resistance to extreme conditions makes it an ideal choice for kitchens, bathrooms, and any environment where heat and moisture are prevalent.
Elevate your design visions with the timeless elegance of Calacatta Quartz Stone. Its exquisite beauty, coupled with unparalleled durability, makes it the perfect choice for those seeking sophistication and longevity in their spaces.