Engineered quartz stone is a great choice for adding a pop of color and personality to your home. When used on walls, floors, countertops, and more, these quartz stones create a textured and dimensional look with their white patterns.
| | |
| --- | --- |
| Model Number | V035 |
| Material | 93% quartz sand and 7% resin |
| Surface | Polished/Leathered/Matte |
| Package Type | Fumigation Wooden Frame /Iron A Frame |
| Warranty | More than 5 years |
| After-sale Service | Online technical support |
What are the Applications of Artificial Quartz Stone:
The artificial quartz stone is flexible and its rich combination of colors gives itself with the texture and beautiful surface like the natural stone.
It can be widely used in public buildings (hotels, restaurants, banks, hospitals, exhibitions, laboratories, etc.) and home decoration (kitchen countertops, washstands, kitchen and bathroom walls, dining tables, coffee tables, window sills, door covers, etc.). It is an environmentally new building interior decoration material that is free of radioactive pollution and can be reused.
Production Process of

Artificial Quartz Stone

: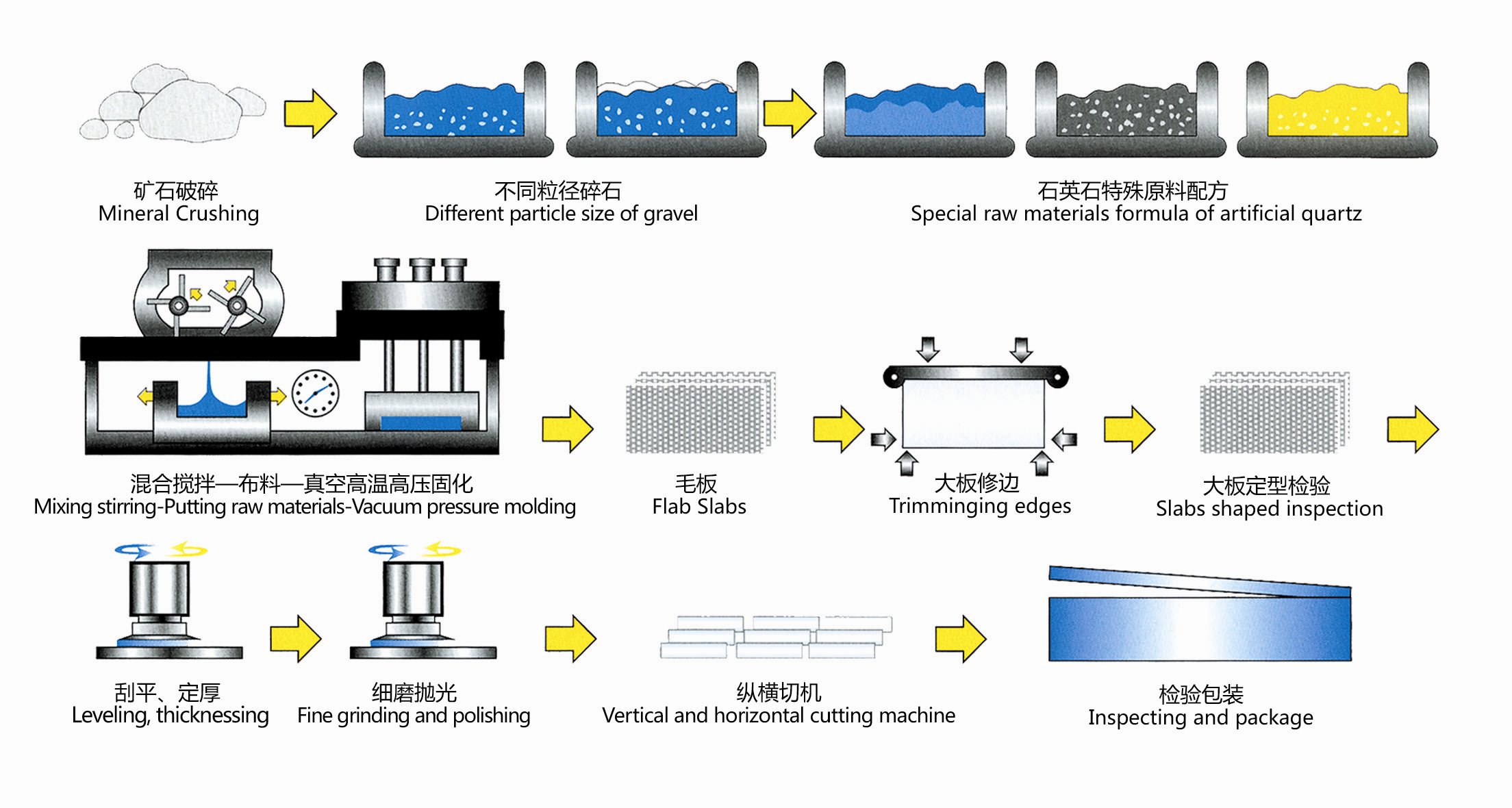 Mineral Crushing → Different particle size of gravel → Special raw materials formula of artificial quartz → Mixing stirring-Putting raw materials-Vacuum pressure molding → Flab Slabs → Trimminging edges → Slabs shaped inspection → Leveling, thicknessing → Fine grinding and polishing → Vertical and horizontal cutting machine → Inspecting and package
FAQ: What is Artificial Quartz Stone?
Artificial quartz stone, also known as engineered or synthetic quartz stone, is a man-made material created by combining 97% natural quartz crystals with 3% resin. The quartz crystals is grounded along with the resin and then pressed together to form slabs.
This quartz engineered stone is crafted to mimic the appearance and qualities of natural stones like granite or marble while enhancing its properties for various applications.
FAQ: Is Artificial Quartz Stone a Good Countertop?
This quartz engineered stone is the best option for those who are looking for a low-maintenance and affordable countertop because the made-made stone has a lower price than the natural stone. Moreover, this engineered stone countertop, produced by SUMMERLY Quartz, is scratch-resistant, heat-resistant, non-toxic, and non-radioactive.
FAQ: What are the Benefits of Artificial Quartz Stone Countertop?
Thanks to the advanced manufacturing techniques, the artificial quartz stone countertop offers multiple benefits that the natural quartz stone can not offer:
●Scratch-Resistance
Artificial quartz stone countertops are incredibly durable and resistant to scratches. Their robust surface can withstand the daily wear and tear of a bustling kitchen environment, maintaining a sleek and pristine appearance for years.
●Impervious to Absorbing Impurities
One of the standout features is their non-porous nature, which prevents the absorption of impurities, stains, or liquids. This characteristic ensures a hygienic surface, making it easy to clean and maintain.
●Heat-Resistance, Non-Toxic, and Non-Radioactive
These engineered quartz stone countertops exhibit exceptional heat resistance, making them suitable for kitchen use without the risk of damage from hot pots or pans. Moreover, they are non-toxic and free from any radioactive elements, ensuring safety in food preparation areas.
●Easy Processing and Installation
Their composition allows for easy processing and customization during installation. Whether it's cutting, shaping, or creating custom designs, these countertops offer flexibility in design and implementation.
●Versatile Color Options
With a wide range of colors and patterns available, artificial quartz stone countertops provide flexibility in design choices. Whether you prefer a classic, bold, or contemporary look, there's a color option to suit every aesthetic.
●Stability in Manufacturing Process
Their manufacturing process ensures stability, resulting in consistent quality across all countertops. This stability guarantees uniformity in terms of durability, appearance, and performance.