V011 is clean and refined, full of natural beauty. With its layered pattern and subtle movement, it perfectly embodies the clean and pure essence of branch bud. Its subtle design acts like a canvas on which various types of design styles can be played.
| | |
| --- | --- |
| Model Number | V011 |
| Material | 93% quartz sand and 7% resin |
| Surface | Polished/Leathered/Matte |
| Package Type | Fumigation Wooden Frame /Iron A Frame |
| Warranty | More than 5 years |
| After-sale Service | Online technical support |
Application:
The artificial quartz stone is flexible and its rich combination of colors gives itself with the texture and beautiful surface like the natural stone.
It can be widely used in public buildings (hotels, restaurants, banks, hospitals, exhibitions, laboratories, etc.) and home decoration (kitchen countertops, washstands, kitchen and bathroom walls, dining tables, coffee tables, window sills, door covers, etc.). It is an environmentally new building interior decoration material that is free of radioactive pollution and can be reused.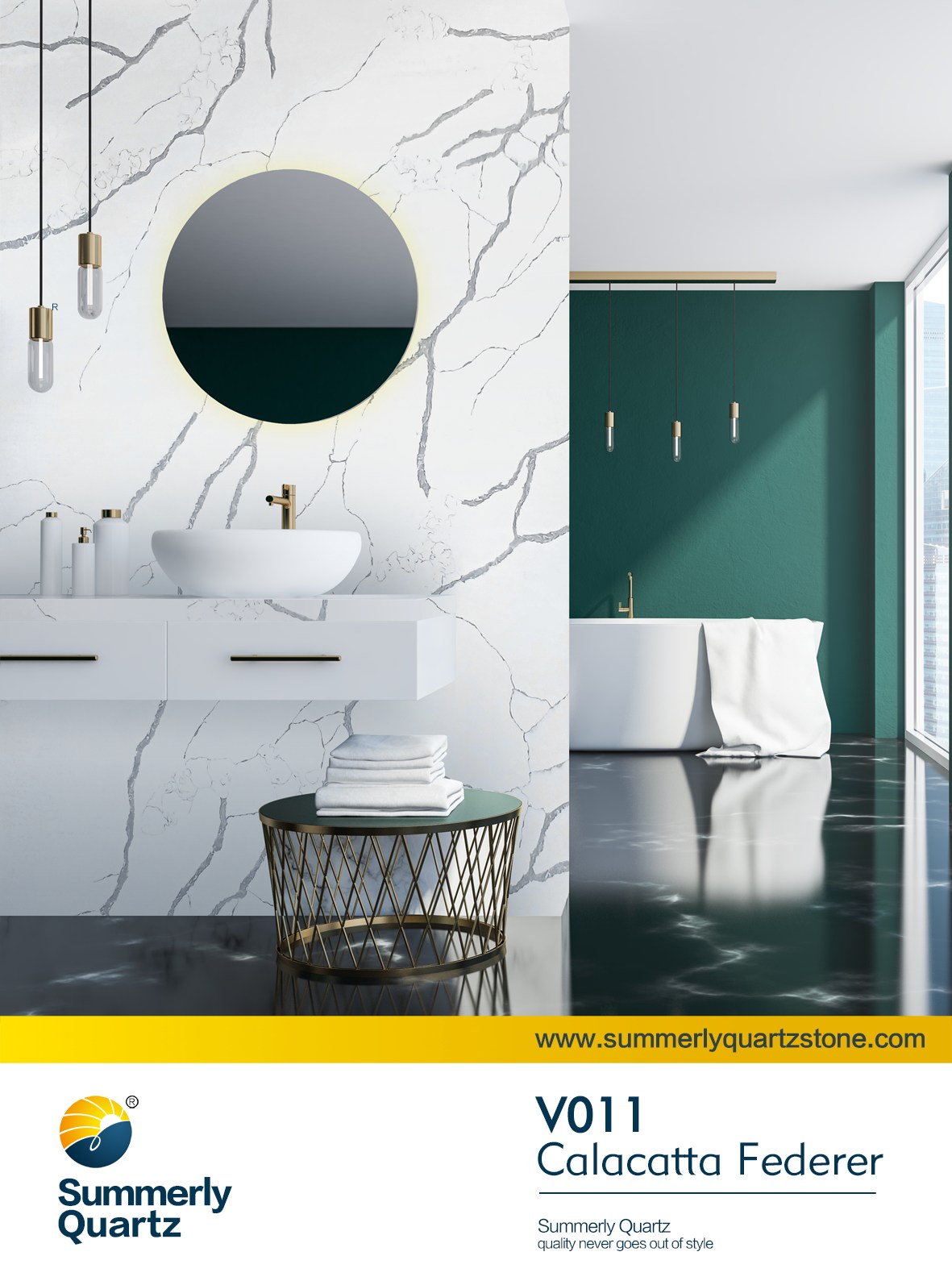 Packing: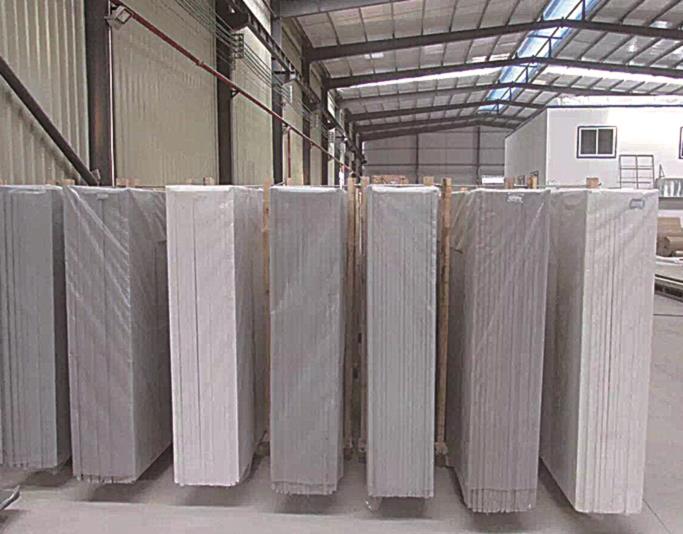 Production Process: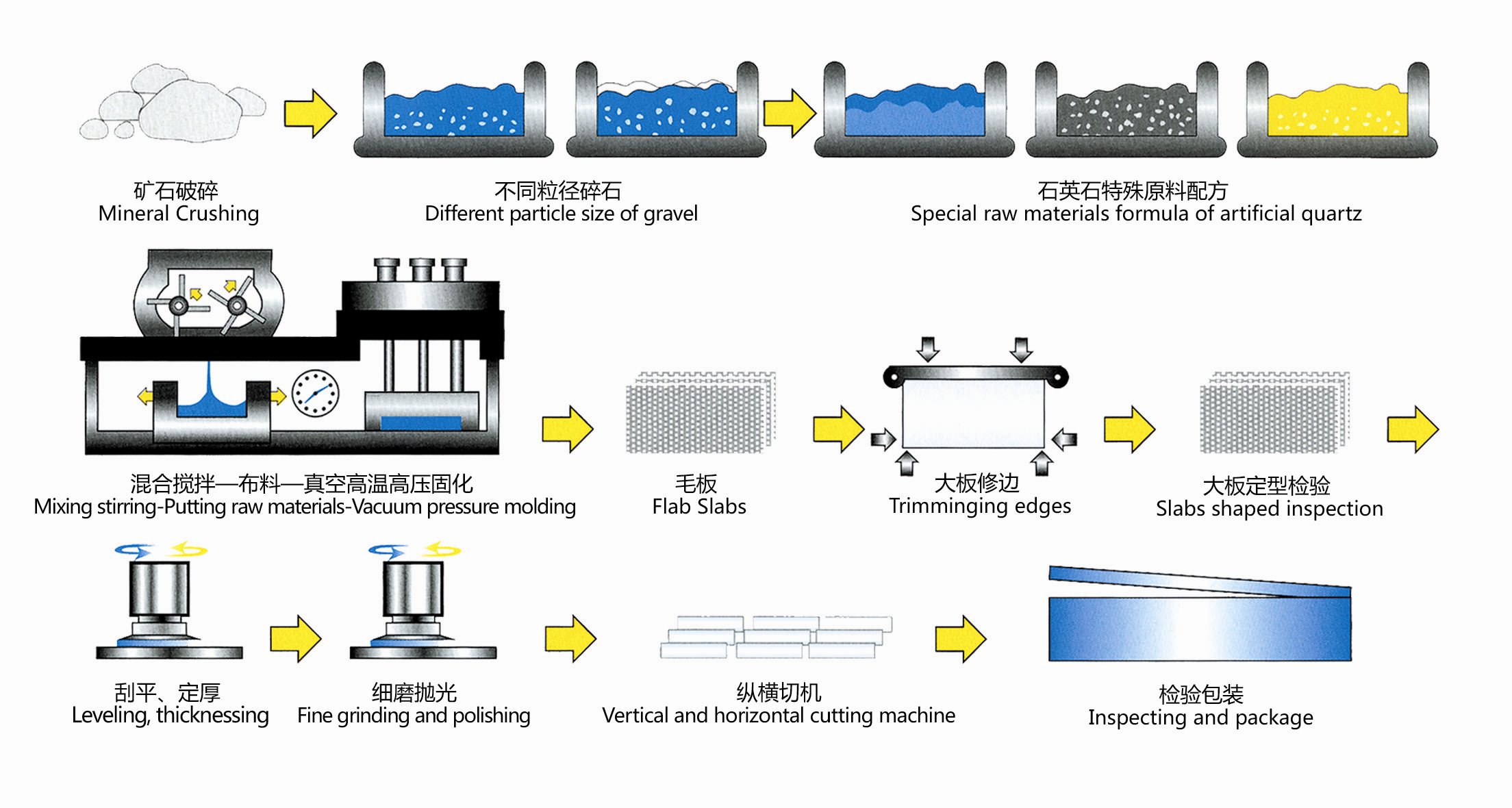 Test Item(s)

Test Method (s)

Test Result(S)

Physical Properties

Absorption by weight

ASTM C97

0.03%

Density

ASTM C97/C97M-15

≥2.3gr/cm3

Flexural Strength

TS EN 14617-2

40-65MPa

ASTMC880/C880M-15

36-76 MPa

Dimension Stability

EN14617-12

Class A

Stain, Chemical Resistance and Cleanability

Stain Resistance Test (Polished)

ANSI Z124.6-2007

Pass. Total Stain Resistance Value: 56 Maximum Individual depth of Staining: 0.04mm

Chemical Resistance Test(Polished)

ANSI Z124.6-2007

Pass,Unaffected

Wear and Cleanability

ANSI Z124.6

Pass
Test Item(s)

Test Method (s)

Test Result(S)

Durability

Abrasive Resistance

TS EN14617-4

29.0-36.0MM

Mohs' Hardness (polished)

EN101:1991

7 Mohs

Freeze-Thaw Cycling

ASTM1026

No Visual Damage

Boiling Water Resistance

ANSI NEMA LD3-3.5

No Effect

High Temperature Resistance

ANSI NEMA LD3-2005

No Effect

Compressive Strength

ASTM C170/C170M-15b

Dry Condition: 234 MPa Wet Condition: 221MPa

Impact Resistance

EN14617-9 2005

5.02 J

Reaction to Fire

EN13501-1:2007 +A1: 2009

Bfl-S1

Thermal Shock Resistance

ASTM -C484

No Visual Defects

Boiling Water Resistance

ANSI NEMA LD3-3.5

No Effect

High Temperature Resistance

ANSI NEMA LD3-2005

No Effect