Engineered quartz stone is a great choice for adding a pop of color and personality to your home. When used on walls, floors, countertops, and more, these quartz stones create a textured and dimensional look with their white patterns.
| | |
| --- | --- |
| Model Number | V033 |
| Material | 93% quartz sand and 7% resin |
| Surface | Polished/Leathered/Matte |
| Package Type | Fumigation Wooden Frame /Iron A Frame |
| Warranty | More than 5 years |
| After-sale Service | Online technical support |
Application of Quartz Stones :
The artificial quartz stone is flexible and its rich combination of colors gives itself with the texture and beautiful surface like the natural stone.
It can be widely used in public buildings (hotels, restaurants, banks, hospitals, exhibitions, laboratories, etc.) and home decoration (kitchen countertops, washstands, kitchen and bathroom walls, dining tables, coffee tables, window sills, door covers, etc.). It is an environmentally new building interior decoration material that is free of radioactive pollution and can be reused.
Quartz Stones:

Packing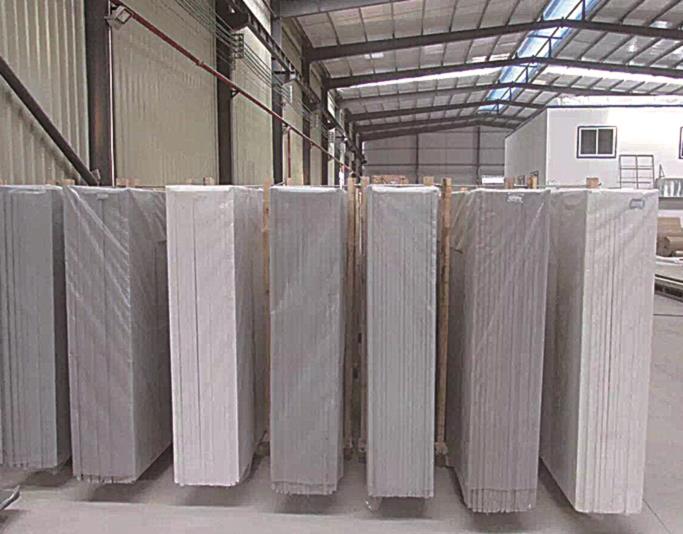 Production Process of

Quartz Stones

: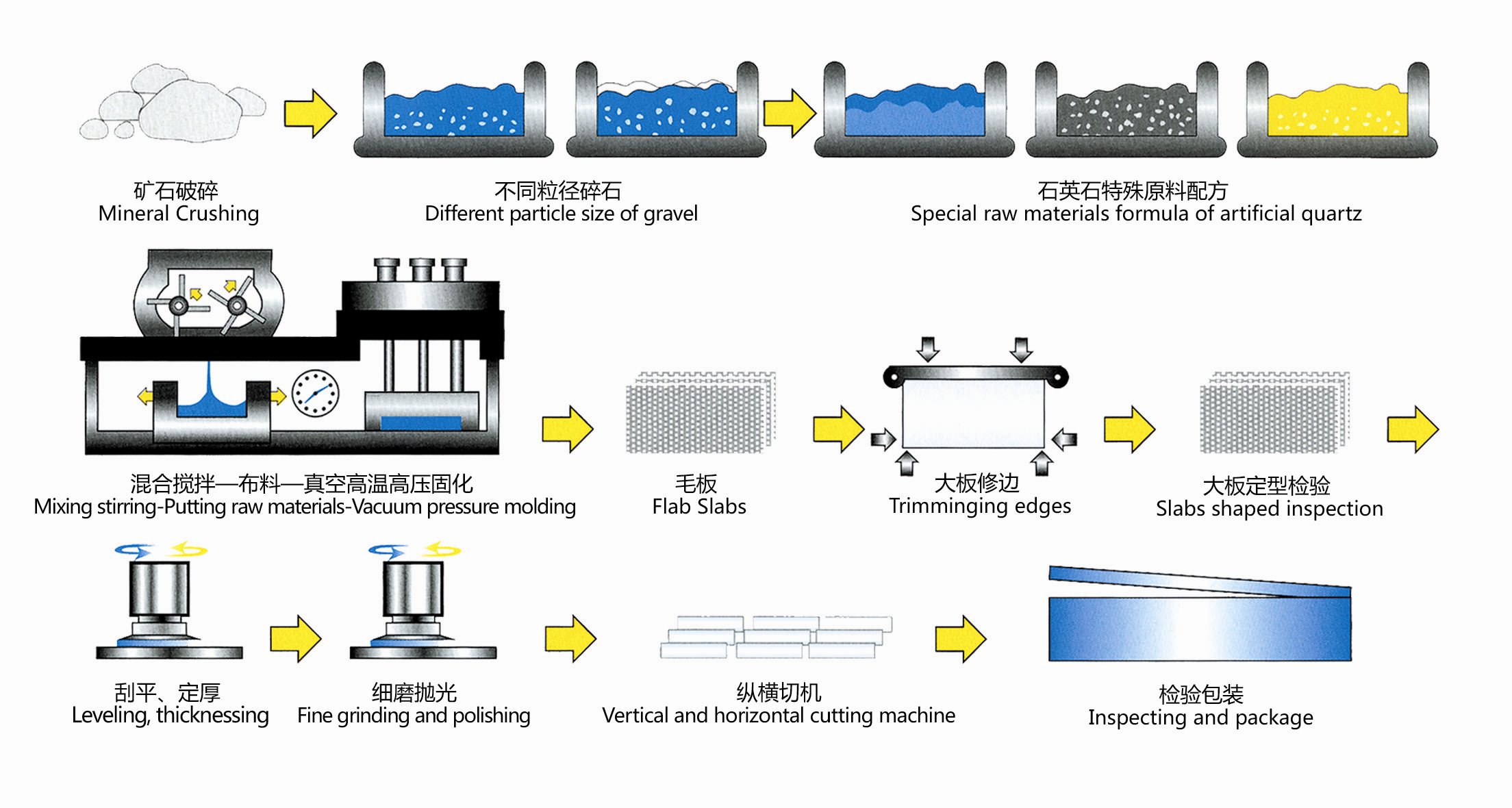 Mineral Crushing → Different particle size of gravel → Special raw materials formula of artificial quartz → Mixing stirring-Putting raw materials-Vacuum pressure molding → Flab Slabs → Trimminging edges → Slabs shaped inspection → Leveling, thicknessing → Fine grinding and polishing → Vertical and horizontal cutting machine → Inspecting and package
What are the Parameters of Quartz Stones?
Test Item(s)

Test Method (s)

Test Result(S)

Physical Properties

Absorption by weight

ASTM C97

0.03%

Density

ASTM C97/C97M-15

≥2.3gr/cm3

Flexural Strength

TS EN 14617-2

40-65MPa

ASTMC880/C880M-15

36-76 MPa

Dimension Stability

EN14617-12

Class A

Stain, Chemical Resistance and Cleanability

Stain Resistance Test (Polished)

ANSI Z124.6-2007

Pass. Total Stain Resistance Value: 56 Maximum Individual depth of Staining: 0.04mm

Chemical Resistance Test(Polished)

ANSI Z124.6-2007

Pass,Unaffected

Wear and Cleanability

ANSI Z124.6

Pass
Test Item(s)

Test Method (s)

Test Result(S)

Durability

Abrasive Resistance

TS EN14617-4

29.0-36.0MM

Mohs' Hardness (polished)

EN101:1991

7 Mohs

Freeze-Thaw Cycling

ASTM1026

No Visual Damage

Boiling Water Resistance

ANSI NEMA LD3-3.5

No Effect

High Temperature Resistance

ANSI NEMA LD3-2005

No Effect

Compressive Strength

ASTM C170/C170M-15b

Dry Condition: 234 MPa Wet Condition: 221MPa

Impact Resistance

EN14617-9 2005

5.02 J

Reaction to Fire

EN13501-1:2007 +A1: 2009

Bfl-S1

Thermal Shock Resistance

ASTM -C484

No Visual Defects

Boiling Water Resistance

ANSI NEMA LD3-3.5

No Effect

High Temperature Resistance

ANSI NEMA LD3-2005

No Effect
Where to Find A Reliable Quartz Stone Supplier?
If you are finding a reliable China quartz stone supplier to ensure the stable product supply, you can contact Summerly Quartz. You
Summerly Quartz is your gateway to premium-quality quartz stone solutions, because Summerly Quartz is regarded as the trailblazer in the modern quartz stone production landscape.
At Summerly Quartz, we seamlessly integrate research and development, production, sales, and service to craft unparalleled quartz products that redefine excellence. Our commitment to innovation is underscored by our five Standard Production Lines and two Super Jumbo Production Lines, backed by two state-of-the-art Fabrication Factories. With a staggering production capacity of 700,000 SQM per year, we cater to the most ambitious projects with ease.
At Summerly Quartz, quality isn't just a goal; it's our relentless pursuit. We are dedicated to creating the highest standard of quartz products in China and beyond. Join us on this journey as we redefine excellence in quartz stone manufacturing, delivering brilliance that stands the test of time.